Watch this page throughout the day for updates on COVID-19 in Calgary
With news on COVID-19 happening rapidly, we've created this page to bring you our latest stories and information on the outbreak in and around Calgary.
Sign up to receive daily headline news from the Calgary Herald, a division of Postmedia Network Inc.
A welcome email is on its way. If you don't see it, please check your junk folder.
The next issue of Calgary Herald Headline News will soon be in your inbox.
We encountered an issue signing you up. Please try again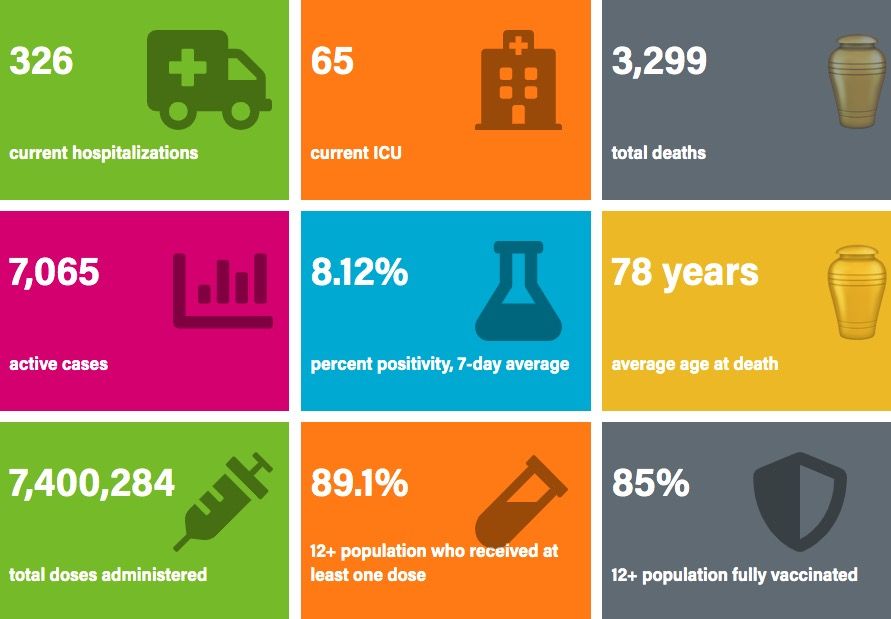 Here are updated COVID-19 numbers released by Alberta Health Services this afternoon.
A Calgary church is urging other worship communities to give their congregants the gift of life by cancelling Christmas in-person services as province is swept up in another COVID-19 surge.
Not only that, but Anne Yates-Laberge of Hillhurst United Church says the province should tighten up its COVID-19 restrictions by requiring them to screen vaccine status just as bars and restaurants must.
"It's hard to see other people of faith celebrating the same holiday when it's so dangerous and the government is turning a blind eye to it," said Yates-Laberge, the church's executive director.
Read more.
After almost two years of pandemic and health orders, Leslie Echino has not been more devastated than she was by the new restrictions handed down from Premier Jason Kenney on Tuesday.
The owner of two Annabelle's Kitchen locations and Bar Annabelle has taken on almost $1 million in debt between the three locations during COVID-19, with all three profitable before the pandemic.
Now she is wondering how much longer she can hold on with health orders that now limit restaurants and bars in the restrictions exemption program to 10 people per table, eliminate other recreational activities, and stop the sale of alcohol at 11 p.m.
"It's been devastating, because we've been planning to have these two weeks help carry our sales and now we're down catastrophic levels," said Echino.
Read more.
On Tuesday, Health Minister Jason Copping announced details on new restrictions to help limit the spread of rising COVID-19 cases and the rapid spread of the Omicron variant in Alberta.
The new rules affect capacity limits and gatherings at large venues, restaurants, bars, and pubs, and come a week after Premier Jason Kenney announced more than two families are able to gather over the holidays and there are no longer additional gathering restrictions on those unvaccinated against COVID-19.
Read more.
Health officials across the country are advising Canadians to ditch single layer cloth masks in favour of masks that offer better protection, but research on whether N95 masks are the better choice still isn't clear, according to an infectious disease expert.
Dr. Lynora Saxinger, an infectious diseases specialist and associate professor at the University of Alberta, said research is not conclusive enough to say N95 masks are superior to all other types of masks when it comes to protection against COVID-19. However, whether or not the mask fits properly makes a huge difference.
"I would never dissuade someone from using a respirator mask, especially if they can afford one. Use the best mask that you can afford that fits you the best," Saxinger said. "But if we can actually use respirator masks, making sure they're really fitted well becomes important."
Read more.
In a weekend survey about our attitudes toward Omicron, Canadians are reporting a vastly different outlook toward the variant than they did in the same poll just two weeks ago.
Maru Public Opinion found that 56 per cent of Canadians are now concerned with contracting Omicron variant, up 10 percentage points, and 55 per cent are concerned that the variant is being underestimated, an upward swing of six percentage points, believing it to be both highly contagious and more deadly.
Those living in Quebec (61 per cent, a rise of 6 percentage points) topped the list of respondents believing that Omicron was being underestimated, followed by Ontarians (58 per cent, up 7). Manitoba/Saskatchewan registered the steepest growth (56 per cent, up 21).
Read more.
Prime Minister Justin Trudeau revealed today three members of his personal staff and three members of his security detail have tested positive for COVID-19 and acknowledged that Canadians were fed up with the pandemic.
"None of us want to be here – we're tired of COVID, we want it to just go away. But we know it's not going to just go away unless we all do our part," he said at a virtual briefing.
Trudeau did not identify the six people or address his exposure to them.
Read more.
During a livestream press conference, Trudeau and a number of other federal government members updated Canadians on it's new COVID-19 response measures, which included the expansion of support programs.
The expansion of federal support programs was announced by Deputy Prime Minister Chrystia Freeland. She said the federal government has announced through the approval of Bill C-2 it will temporarily expand the definition of a lockdown, so wage and support programs can support workers and businesses impacted by capacity restrictions.
If you are an employer who has to reduce the capacity of your main business by 50 per cent or more, Freeland said you'll be eligible for wage and rent subsidy support through the Local Lockdown Program.
"We are lowing the revenue decline threshold from 40 per cent to 25 per cent," she said. "Eligible employers will receive wage and rent subsidy support from 25 per cent up to 75 per cent, depending on how much revenue is lost."
Freeland added employers will be able to apply for the expanded support programs after the end of each program period.
For workers, Freeland said if you are in a region where the provincial or territorial government has introduced capacity restrictions of 50 per cent or more, and if you've lost 50 per cent or more of your income as a direct result of the restrictions, effected workers can qualify for the Canada Worker Lockdown Benefit.
"This benefit will put $300 a week in your pocket to supplement lost wages," Freeland said. "Expanded eligibility will be effective as of Dec. 19, and will run until Feb. 12, 2022."
Prime Minister is updating Canadians on the federal government's COVID-19 response. You can watch his press conference via the live stream above.
More to come.
A South African study suggests reduced risks of hospitalization and severe disease in people infected with the Omicron coronavirus variant versus the Delta one, though the authors say some of that is likely due to high population immunity.
Questions about Omicron's virulence are at the heart of scientific and political debate in many countries, as governments grapple with how to respond to the spread of the variant while researchers race to understand it.
The study, which has not been peer-reviewed, found that people diagnosed with Omicron in South Africa between Oct. 1 and Nov. 30 were 80 per cent less likely to be admitted to hospital than those diagnosed with another variant in the same period.
Read more.
With Omicron cases climbing, testing sites stretched and pre-dawn lineups for scarce rapid antigen tests, some public health officials are directing anyone showing a symptom of COVID to assume they're infected with Omicron and self-isolate, along with everyone in their household, regardless of vaccination status.
To some scientists, the advice is prudent, to others, impractical and unrealistic, reflecting the divide among experts over how to respond to the Omicron surge.
The isolation advice varies across the country, though generally the recommendation follows that if a fully vaccinated person with symptoms can't get tested, they should consider themselves COVID-positive and isolate until a PCR test becomes available, or the isolation period (typically 10 days) has ended.
Read more.
The Mac's International Hockey Tournament is on hold for another year.
The committee made the announcement late Tuesday that it has pulled the plug on the annual under-18 event amid the latest wave of COVID, which is prompting a whole new set of protocols for travel and fan attendance.
"The Mac's U18AAA Tournament Committee has made the difficult decision to cancel this year's Mac's U18AAA Tournament presented by Circle K," tweeted @MacsTournament. "With the rising cases and constantly changing environment of the COVID-19 pandemic, we feel it is not appropriate to execute the tournament as planned. This decision was made after weighing all options and is based on many factors."
Read more.
Alberta will see unprecedented COVID-19 case numbers driven by the Omicron variant, but the provincial government's new measures will stop short of other provinces' widespread shutdowns.
While 50 per cent capacity limits are being slapped on large venue events and an 11 p.m liquor-serving curfew imposed on bars, the province is putting the onus on rapidly increasing booster vaccinations to tamp down the raging new variant that now dominates new cases of COVID-19 in the province.
"Getting a booster shot is the single most important thing you can do," Premier Jason Kenney said Tuesday.
Read more.
Canada's top doctor says the country is seeing the feared surge in Omicron cases and is warning people to keep their contacts down during the holidays because "the jury is still out" on the new variant's severity.
Dr. Theresa Tam said Omicron cases, which first arose in South Africa and then spread to Europe, were taking increasing hold here. She said there were 900 identified cases of the variant on Monday, but that likely represented just the tip of the iceberg.
"The cases of the Omicron variant are increasing rapidly, which is something that we probably anticipated would happen as we look towards other countries," Tam said in an interview with the National Post on Tuesday.
She said so far Omicron cases in Canada have been mostly mild, but they have also been in age groups that have had mild cases throughout.
"The jury is still out on that front," she said. "Our cases have also been symptomatic, but mild, some are asymptomatic, but the average age is actually still quite young."
Read more.
Local retailers are banking on a final push to the holiday shopping season as they dig themselves out from almost two years of pandemic and restrictions.
The Discovery Hut is benefitting this year after the toy store took a risk in the fall of 2020 and opened a second location. The new store at CrossIron Mills kept them afloat last year, but now it is providing a boost to the business as customers return.
"This isn't a make-or-break year for us, last year was," said co-owner Stan Eisenberg. "We stuck our necks way out by opening that second location, it was a good move, we're very happy we did it, and it's given us a lot of stability for this year.
He said they are within a stone's throw of hitting 2019's sales levels and are optimistic they will reach those numbers over this final week. What is critical is the line of customers queuing up to get in, despite the 33 per cent capacity limits at both of their locations.
Read more.
The National Hockey League will not send its players to compete at the Beijing Olympics due to COVID-19 concerns as the highly transmissible Omicron variant of the coronavirus spreads globally, ESPN reported on Tuesday
The NHL agreed last September to pause its regular season so the world's top players could compete in Beijing with the caveat it could withdraw if COVID-19 disruptions forced games to be rescheduled during the Olympics window.
Read more.
Alberta has dropped its age requirements for adults to get their COVID-19 booster shot starting immediately.
Previously, only those aged 50 or older were eligible for a booster, except in certain circumstances.
Now all Albertans aged 18 and older at five months or more from their second dose can book appointments for third doses online with participating pharmacies or AHS by using the Alberta vaccine booking system or by calling AHS at 811.
Postmedia is committed to maintaining a lively but civil forum for discussion and encourage all readers to share their views on our articles. Comments may take up to an hour for moderation before appearing on the site. We ask you to keep your comments relevant and respectful. We have enabled email notifications—you will now receive an email if you receive a reply to your comment, there is an update to a comment thread you follow or if a user you follow comments. Visit our Community Guidelines for more information and details on how to adjust your email settings.
365 Bloor Street East, Toronto, Ontario, M4W 3L4
© 2022 Calgary Herald, a division of Postmedia Network Inc. All rights reserved. Unauthorized distribution, transmission or republication strictly prohibited.
This website uses cookies to personalize your content (including ads), and allows us to analyze our traffic. Read more about cookies here. By continuing to use our site, you agree to our Terms of Service and Privacy Policy.